Span the gap
between regulatory processes and simplicity
State boards and other highly regulated organizations are challenged to develop the workflows, occupational licensing services, complaint management processes, tracking procedures and reports they need to comply with regulations, mitigate risks and streamline their processes. ThoughtSpan eases that burden with a highly scalable, time-saving online solution that makes compliance one of the easiest parts of your workday.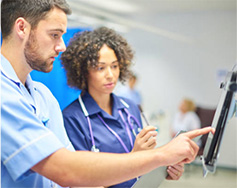 "ThoughtSpan keeps customer support and quality of product at the forefront of their services and continue to play an integral role in maintaining one of the country's best, most secure repositories for nursing information online."
IS Manager, North Carolina Board of Nursing
Read more testimonials
Handle large quantities of multiple data types and streamline your processes.
2.5M+
licensees
More than 2.5 million licensees use our occupational licensing solutions for state and local boards
8.5M+
licensure applications
Over 8.5 million applications for licensure have been submitted through our solution
99.9%+
uptime
More than 99.9% uptime